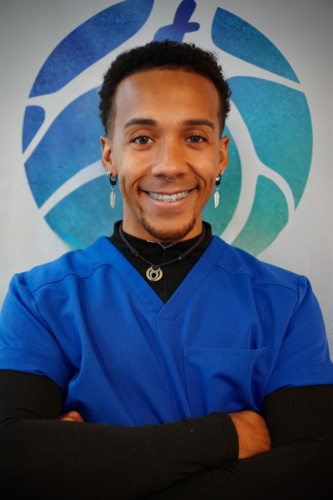 Armani Skyy, our dedicated Office Manager, is an embodiment of ambition, dedication, and leadership. With a strong academic foundation and a versatile skill set, Armani brings a unique blend of expertise to the team. He holds not one but two Bachelor of Arts degrees from Lindenwood University in St. Charles, Missouri, one in Dance with an Emphasis in Kinesiology focused in Acrobatics and the other in Spanish, both K-12 certified.
Armani's journey doesn't end with his impressive academic credentials. He possesses an extensive range of skills, including but not limited to expertise in Digital Marketing, Account Management, Detail Orientation and Customer Service, which he seamlessly weaves into his role as Office Manager. His professional arsenal is further enriched by qualities that encompass ambition, dedication, and leadership, which infuse life into every task he undertakes.
When it comes to his accomplishments, Armani stands out as a true champion. His journey as a National Champion notched up a remarkable three victories. In 2022, he proudly secured the 8th position in the fiercely competitive Cheerleading World Championship, a testament to his unwavering commitment and prowess. Additionally, Armani is not just a team player but a leader, as he became a successful business owner under the age of 30, proving that his talents extend beyond the office environment.
Just as Dr. Alfred Alessi has dedicated his life to wellness, Armani Skyy is dedicated to ensuring the smooth operation of Alessi Functional Health, providing the support and structure needed for everyone to achieve their health and wellness goals. With his passion, skills, and achievements, Armani brings an extraordinary spark to our team, helping us reach new heights in patient care and service excellence.
In the words of Armani Skyy herself, "I believe in pushing boundaries, exceeding expectations, and turning dreams into reality. My mission as Office Manager is to inspire others to excel and provide the support needed to make it happen."